I've always been a huge fan of
UK Tights
, one of my leggings and tights favourite shops. UK Tights are hands-down the best leggings and tights shop that I have ever seen and they are based in the UK. They have the largest selection of tights that I've seen and their range are stocked from some of the world's most famous brands, including Hue, Spanx, Jonathan Aston and more.
I wanted to get a black pair of Ponte tights as it is something that I've seen on blog sites and Instagram. This pair of
Hue Ponte Leggings
are fantastic as they hug my body well and looks great with blazers, belts and tank tops.
Hue is a brand that specialises in making leggings that resembles trousers or normal pants. For example, these leggings resemble a pair of smart casual jeans. These leggings come with a little hanger so you can store these babies in your wardrobe. I love the black colour as it really goes well with my leather jackets and suede jackets.
As for the design. the belt loops and functional rear pockets looks practical and beautiful, and the back and front pockets add to the realism and make it look less like you are wearing leggings or activewear. I love the colour of these leggings, as the light grey really goes well with anything- sports shoes, flats, a black top, a white cami- it's super versatile!
I'd advise anyone to get a size up as I got a size M which fits my Size 8-10 frame. I think these leggings looks better if its tighter. The length is pretty long if you have normal-length legs. I think that the ankle style is really beautiful, and I styled it with cool jacket and cool shoes.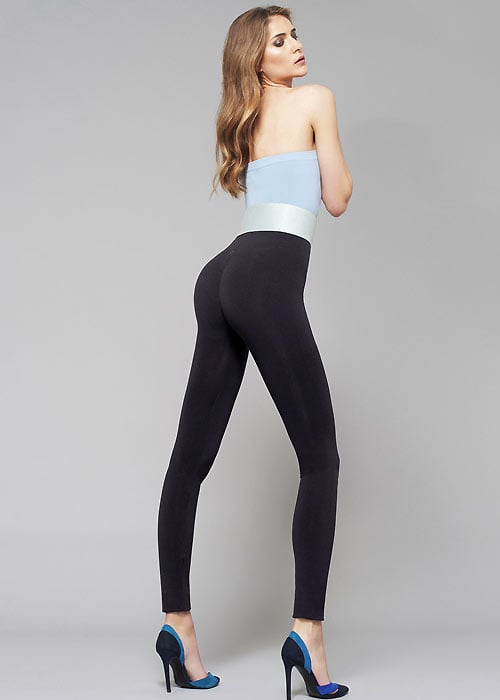 I also got this lovely pair of
Oroblu Push Up Leggings
which at first seemed a bit tight but then I changed to a Size Medium and they became the most fitting pair of leggings that I've ever owned. This fantastic product is perfect for enhancing your bottom and buttocks and is perfect for the club or a glamorous date night.
This is a special support control legging made to shape and enhance your body without sacrificing comfort. A lot of research and development has gone into the product in order to make it well fitting and to give you the perfect, proportioned shape. I adore this pair of leggings and wouldn't hesitate to recommend it to anyone who wants to stand out from the crowd.